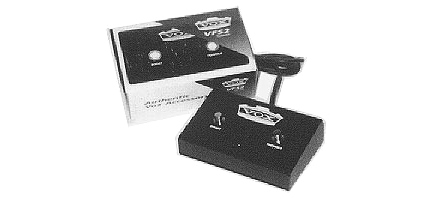 | | | | | |
| --- | --- | --- | --- | --- |
| Model | Dimensions | Weight | MSRP | Street Price - 2007 |
| AD100VT | 27" x 21.8" x 10.5" | 64 lbs. | $779.00 | $449.00 |
© 1996 - 2021 The Vox Showroom, all rights reserved. No use on online auctions, eBay or Reverb.


First introduced to the US market in the mid 2005, the AD100VT was, along with the AD100VTH head, the loudest member of the AD Valvetronix "Chrome" series of amplifiers. It featured two 12" Vox special design speakers in an open back, pressed board cabinet powered by a 100 watt Valvetronix amplifier circuit. The control panel was loaded with controls for eleven amp models, eleven pedal effects and a two channel digital programmer.

An optional VFS2 floor pedal allows for remote control of stored tonal programs.

The AD100VT is a very loud amp, but a rear panel power amp level control allows you to reduce the output power of the AD100VT all the way from 100 watts to one watt.


Click here for an "in depth" presentation about the circuitry and features of the AD100VT

The AD100VT follows a "chrome" theme, in fact, one magazine ad campaign from Vox used the theme, "Go Chrome or Go Home." Chrome plated Vox logos and a chrome plated steel grill highlighted this theme.

North Coast Music offered an optional aftermarket conversion on AD100VT amps sold at their store. The chrome plated steel grill was replaced with traditional brown or black Vox grill fabric.

The AD100VT was discontinued by Vox in 2008 when in was replaced by the VT100.

North Coast also offers a number of cosmetic replacement parts for the AD100VT, see below.

North Coast Music offers these repair parts and accessories for the AD100VT.